Q&A: What is Tabee?
Great news! You now have a Tabee digital business card and it's time to activate it.
To activate your Premium Tabee Metal Business Card, simply scan the QR code or touch your phone with an active NFC module against the NFC chip located underneath the QR code on the card.
To activate NFC Tag or keychain simply touch it with your phone with an active NFC module.
If you have an iPhone, the reader is located in the area of the front camera, while Android devices usually read NFC in the middle of the back side. Once you bring your phone closer to the Tabee NFC tag, your modern identity will be activated!
Next, create your own branded corporate profile and add links to all of your known social networks, personal website, or any other custom links. With Tabee, you can easily share all of your important contact information in a single tap.
Tabee Business Card supports official Tabee NFC tags as well as any other programmable tags.
Official Tabee tags come with a free annual replacement for PRO users;
If you prefer, you can also purchase writable NFC tags online or from a nearby store and sign them using the Tabee application (note that they may not work on metal or other surfaces).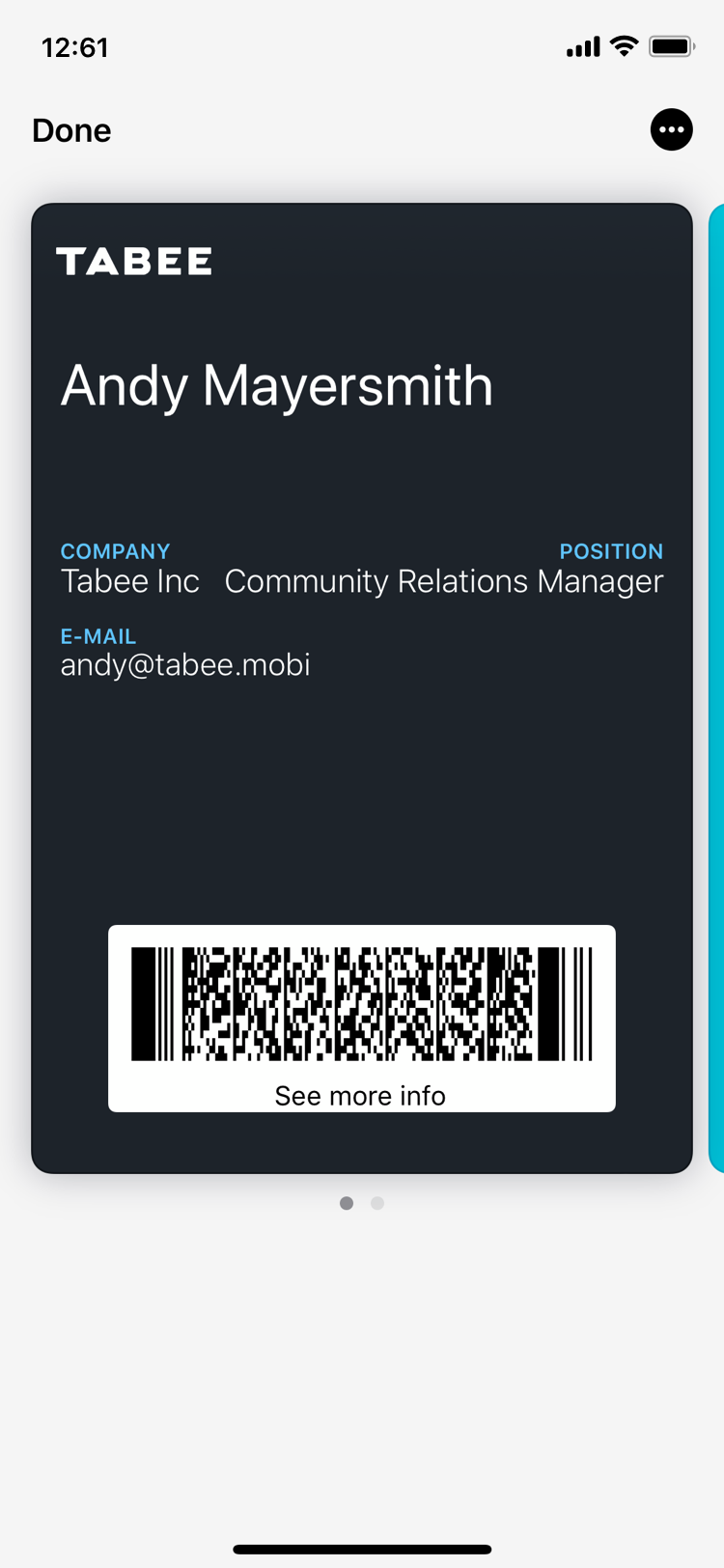 Smartphones support
Tabee Business Card can be easily recognized by tapping any modern iOS or Android smartphone with an NFC reader enabled. In case the NFC reader is not enabled on your device, you can simply ask to scan your QR code within the Tabee app or use your Tabee Wallet Card.
Manage your Profile from Web and Mobile App
You can use the Tabee NFC tag without installing the app, but having the app provides additional benefits such as CRM functionality, including contact enhancement, reminders, attachments, and email tracking. The app also offers a unique text recognition feature for scanning traditional printed business cards.
Personal profile and contact/lead form
Tabee enables you to easily share your contact and social profile information, as well as offering a personal lead form that allows others to submit their own contacts directly to you and your CRM. With Tabee, there is no longer a need for paper business cards.
Classic and Personalised Design
Tabee offers a variety of stylish and customizable NFC tags that can fit your unique needs. Our original NFC tags come in beautiful designs and can even be branded upon your request. You can customize your digital card to match your corporate style and it supports both light and dark themes on your phone.
We also offer other forms-factors such as metal or wooden cards, keychains, and more. These can be used within your team or make great gifts for your clients. To learn more about our corporate offerings, you can request our enterprise sales team to contact you and give you a detailed overview.
Our original Tabee stickers come in a 3 centimeter radius and have an embedded NFC tag. To ensure maximum efficiency, you need to first activate your empty tag and stick it to your phone. For iPhones, we recommend sticking it to the bottom of the device and for Android devices, stick it outside the area of your NFC reader, which might be either in the center or top side of your phone. With Tabee, you can experience a modern and seamless way to share your contacts and social profiles.
Director of Business Development

Playrix

In my daily business activities I am using Tabee which is helping me to organise my contacts and keep on track with them. The app giving me a unique opportunity to access all my business network on a fingertips from mobile and on web interface.
Create your card now!